Nights at Mata Hari book 2!
A gay romantic suspense novel about an alpha bartender, an art historian pursuing a mystery and a homeless teenager in need of help.

Lying Eyes is available in Kindle Unlimited
Amazon USA        Amazon Universal        Amazon AU
Paperback version at Amazon (and you can add the Kindle version for just $0.99 more!)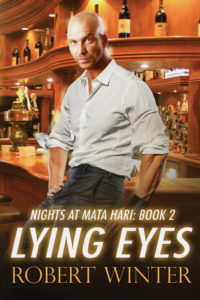 This bartender's art lies in more than mixing drinks …
Randy Vaughan is a six-foot-three mass of mysteries to his customers and his friends. Why does a former Secret Service agent now own Mata Hari, a successful piano bar? Where did a muscle daddy get his passion for collecting fine art? If he's as much a loner as his friends believe, why does he crave weekly sessions at an exclusive leather club?
Randy's carefully private life unravels when Jack Fraser, a handsome art historian from England, walks into his bar, anxious to get his hands on a painting Randy owns. The desperation Randy glimpses in whiskey-colored eyes draws him in, as does the desire to submit that he senses beneath Jack's elegant, driven exterior.
While wrestling with his attraction to Jack, Randy has to deal with a homeless teenager, a break-in at Mata Hari, and Jack's relentless pursuit of the painting called Sunrise. It becomes clear someone's lying to Randy. Unless he can figure out who and why, he may miss his chance at the love he's dreamed about in the hidden places of his heart.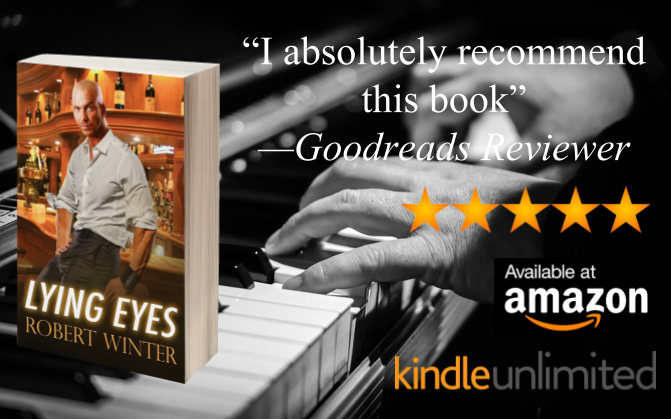 "Robert Winter is now an auto-buy author for me. Spectacular writing!!!"  Amazon reviewer
"There are pulse-racing action scenes to go along with the intrigue and building romance, and an ending that goes above and beyond to supply gratification to the reader, as well as to the characters."
It's About the Book
"4.5 stars!!"
Bayou Book Junkies
"Robert Winter has definitely made it onto my favorite author list.  This is his third book, and they just keep getting better!"
Scattered Thoughts and Rogue Words
Return to home page.