The last stop on my blog tour was with Urban Smoothie Read, where I discuss the inspiration and future plans for one of my favorite characters, Randy Vaughan. Take a look or review the blog post below! You can also click here to buy the book on Amazon.com.
The Mystery of Randy Vaughan
Randy Vaughan is a major supporting character in Every Breath You Take. A former Secret Service agent, he took early retirement and now runs a piano bar in Washington, DC, called Mata Hari. Here is how Randy is described when Zachary Hall enters Mata Hari for the first time:
Zachary took a deep breath and walked up to the bar, where he waited near the hinged opening in the wooden countertop for the muscular bald bartender to notice him.
Damn. That guy is hot. The man was probably late forties or early fifties and stood well over six feet tall. He had a face made up of hard planes and a nose that appeared to have been broken at least once. A bit of dark scruff framed his strong jaw. His broad chest stretched a fitted white shirt, which was tucked into trim black pants that curved over a meaty rump.
Woof. Serious muscle daddy. Straight off one of the websites Fred [Zachary's friend] follows.
When I conceived the character, I knew I wanted him to be big and burly, slightly intimidating but ultimately a fierce and loyal friend. For inspiration, I pictured him very much along the lines of adult film star Jesse Jackman. If you haven't had the pleasure of watching one of his movies, this is a picture of Mr. Jackman from his website (used with his permission).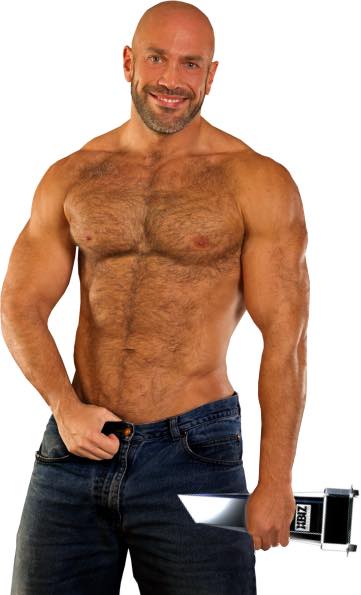 I based the bar that Randy owns on the kind of place I would like to visit myself. The location I chose is of a now-defunct gay bar in Washington called Omega DC, which was in an alley near the intersection of 22nd and P Streets in Northwest Washington. The interior of Mata Hari was inspired by The Townhouse in New York, a bar that is still open today. The Townhouse is decorated to feel as if you were in someone's home for a cocktail party, and often patrons gather around the piano to sing along with a variety of talented pianists.
As I was revising Every Breath You Take, I realized I had created several mysteries about Randy. Why did he retire early from the Secret Service? Is there a reason he called his bar Mata Hari? What impact did the death of his uncle Kevin have on the trajectory of Randy's life? By the time I was finished with Every Breath You Take, I was so intrigued by those questions that I wrote my current work in progress all about Randy. The new story involves an art historian from England with secrets, a homeless teenage boy, and a mystery about a painting. Here is a snippet from the beginning of the WIP:
"Guys, time to take it elsewhere."
The two men pawing at each other in the corner of Randy's bar jolted apart, and Randy snorted at their wide eyes and swollen lips. He turned away to pick up a few stray glasses and napkins from a nearby table, allowing them some privacy to adjust clothing and tuck away obvious erections. When he turned around again, the younger of the two would-be lovebirds ran hands through his hair as he scanned up Randy's six foot three linebacker frame. His red-faced partner, or partner-of-the-moment, caught Randy's eye and muttered, "Sorry. Didn't realize it was so late."
The younger one whispered something in his date's ear, but before they could invite him into a threesome, Randy said pointedly, "Malcolm will let you out the front." The men hurried away then, hand in hand. Well, at least someone was getting laid tonight, even if Randy wanted no part in it. He hoped they didn't try to get it on in the alley or the parking lot though. There was little worse than a bare ass mooning him through a windshield at two in the morning.
He finished gathering glasses, then wiped down the tables. The night had been slow so there wasn't much that needed to be done, plus the cleaning crew would wash up and run a vacuum in the morning, but he never left the place messy. His bar Mata Hari meant a lot to him. It had been open less than a year, but he'd built up a good base of loyal regulars already. They in turn talked the bar up, and as a result on weekends Mata Hari was usually packed. Tuesdays and Wednesdays though… not so much.
Randy walked through the main room of the bar, past deep couches and inviting club chairs grouped around cocktail tables of dark wood. He'd chosen the decor to create the feeling in his patrons that they were guests at a cocktail party rather than a bar. He scanned his art collection on the walls and stopped to adjust one frame that had been knocked askew during the evening. The painting was a small pastel he'd bought in Kyoto, one that featured cherry trees lining a small stream; a single blossom had detached and drifted down toward the water. The elegance of the lines and the delicate shading of pinks and blues pleased his sense of composition. Once again, he admired the artist's restraint and economy of color. A small tap on the frame's edge squared the painting again.
I hope that you'll enjoy reading about Randy as much as I did writing him. You can find out more about my books, and keep an eye out for Randy's story, on my website.
Return to Home